Activates a lively, innovative thought and creator of new ideas
in the learning process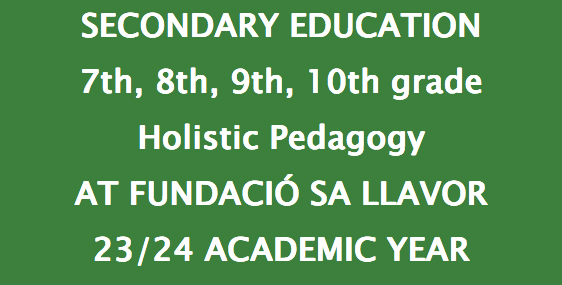 We are happy to announce that the next 2023/24 academic year the Fundació Sa Llavor offers:
Compulsory Secondary Education, 7th, 8th, 9th and 10th grade, approved by the Ministry of Education of the Balearic Islands.
We open the new registration period for the 23/24 academic year.
We thank all the people who have made it possible.
First Approved Center in Holistic Pedagogy based on the Goethean vision of the world and the essential needs of the different evolutionary stages of Rudolf Steiner's holistic Pedagogy .
At Sa Llavor we cultivate, through the learning process, free and KINDLY ACTION that strengthens the will; artistic SENSITIVITY and the perception of BEAUTY that develops the feeling of the global and the particular; free and genuine THINKING, capable of creating new ideas and nurturing the world of TRUTH.
The four pillars of Sa Llavor Pedagogy are the compass on the educational path:
1. Comprehensive Education
2. Freedom and Trust
3. Connection with Life
4. Community and Service to Others